When the temperature begins to drop in October and November, it's important to know that your furnace is going to work all winter long. At G&R Heating and Air, we can thoroughly inspect your heating system, make necessary repairs, and recommend upgrades where we see the need. As a homeowner, you should be able to rely on your furnace during those cold days and nights, and if something goes wrong, you need an experienced team that can make things right. If you live in Bartlett and need heating repair, call us right away!
Upkeep And Maintenance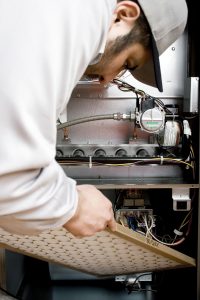 As with any piece of machinery, your furnace will only keep working properly with regular upkeep and maintenance. Parts may break or wear out, and it's important to check things on an annual or bi-annual basis to make sure there won't be a major malfunction in the middle of the heating season. The last thing you need is for your furnace to break down when the temp is in the single digits! We know how to tackle any heating problem and our top priority is to provide you with the peace of mind that your furnace will keep you warm all season long.
New Furnace Installation
There may (and most likely will) come a time when you need to replace your furnace. Either because it's been in your house for a long time or it suffers a severe breakdown, but whatever the case may be, your current system has to go. When that happens, our experienced team will be able to remove your old system and install a new one in no time at all. If you need recommendations on a new furnace, we'll show you modern, energy-efficient options that won't put a damper on your wallet over the winter.
At G&R, we're proud to serve the people of Bartlett, and when you have a heating emergency or simply need maintenance, we'll be there to help.