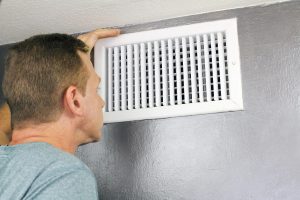 Your home's ductwork is something you rarely think about, at least until something goes wrong with it. The ducts may rattle when your furnace or air conditioner turns on, and you may notice a decrease in air quality during certain times of the year. If your ducts are loose or dirty, G&R Heating and Air can help. We've worked with many homeowners in Pingree Grove, and can repair your current ductwork or install new ducts for your home renovation.
Fixing Gaps And Leaks
Over time, air ducts can begin to separate and leak, and this can lead to decreased air quality and efficiency inside your home. The warm or cool air your HVAC system is supposed to be circulating throughout your house is being lost inside the walls and ceilings. This can lead to higher energy bills and poor system operation, which is a problem for any homeowner. Our experienced technicians can repair any faulty ducts and install new sections where necessary.
Better Air Quality
Another issue many homes face is poor air quality from dirty or clogged ducts. Our HVAC professionals can test for pollen and other allergens inside your ducts, and recommend the proper service for cleaning your ductwork.
Our services include:
Installation and repair of vents, grills, bathroom fans, kitchen hoods, dryer vents, and more
Evaluation of your current system
System diagnosis
Air flow pressure testing
Pollen testing
Seal testing
If you're concerned about the ducts and vents in your house, don't wait any longer. Contact us today to schedule an appointment to have your ductwork inspected.
We look forward to helping you!