When those first few snowflakes fall in November or December, your first thought may be of staying inside and keeping warm all winter. It's important to make sure your furnace is working properly, especially before the frigid temperatures set in for the season. If you live in Wheaton and you need furnace repair or installation, G&R Heating and Air is here to help. We can fix or replace your heating system, making sure that you and your family stay nice and warm!
Furnace Maintenance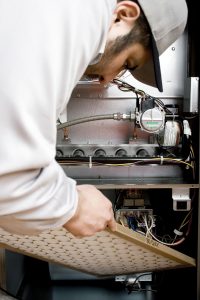 With proper maintenance, any furnace or heating system can keep working for a long time. If it's been a few years since you had your system looked at, contact us today and we'll send a technician to perform a complete tune-up. They'll check every component, making sure everything is working properly, and can replace faulty parts to guard against malfunctions and breakdowns. When they're done, you'll feel confident that you'll have adequate heat all season long.
Furnace Installation
If your heating system has seen better days, and you've spent quite a bit on repairs over the past few years, it might be time to replace it. We can help you find the right model for your home, and you'll likely find that it's more cost-effective to purchase a new furnace rather than keep paying for repairs and upkeep on your old one. Our team will handle the complete removal of your old system, and the placement and installation of the new appliance. If you need new ductwork for a certain part of your home, we can take care of that as well.
When you need heating repair or installation for your home in Wheaton, call G&R right away. We're available 24/7 to take your emergency call, or we can help you schedule a routine service appointment.